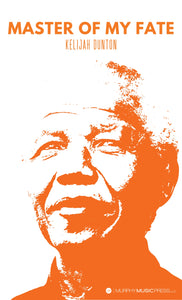 "Master of My Fate" ~ Grade 2
This Grade 2 Piece For Wind Band was Commissioned by the Beyond The Notes Music Festival, Inc, Chris Gleason President.

The title "Master of My Fate" is taken directly out of Mendela's favorite quote from a poem titled "Invictus" by William Earnest Henley. The entire quote that aided in keeping Nelson Mendela going strong during trying times, reads, "I am the master of my fate; the captain of my soul".

In my mind, this piece starts with a yearning for freedom. He must have called out to God when all hope seems lost. He must have begged the heavens and the stars to help him lead South Africa out of the dark times.

By the end of the piece, it sounds as if he's gotten his answer from God. He is set free, he is at peace, and his nation of South Africa rejoices!